Rotational molding is a technology that allows the manufacture of plastic parts of any size and geometry. Although for many years this technique has been associated with the manufacture of tanks and large vats, the evolution in terms of materials, techniques and process control technologies now makes it possible to manufacture almost any product in plastic.
ABC ROTOMOLDEO, as a leading company in rotomolding technology in Spain, develops and incorporates these new techniques and applies them in the most technological sectors.
One of the sectors that, due to its special needs, invests the most in R&D and development is the Military and DefenseThe current political situation in Ukraine and the technological race that almost all countries are engaged in to be at the forefront in order to guarantee the security of their citizens and the defense of their interests.
Within this framework, ABC ROTOMOLDEO is proud to announce the collaboration with ARQUIMEA within the project developed by its team and manufactured entirely in Spain.
The development carried out by ARQUIMEA's engineering team is the latest in marauding ammunition that will allow the soldiers of our armed forces and our allies to reach targets with great precision from far distances and in total safety, being light enough to be transported by infantry in a totally watertight and safe packaging.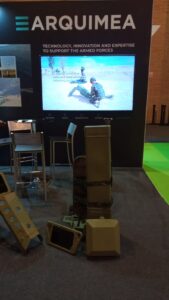 We hope that the development of these new technologies will contribute to ensuring peace and security in our country while contributing to industrial development and to the increasing use of rotomolding.