At ABC ROTOMOLDEO we are clearly committed to quality in our manufacturing and we pay great attention to the details that make our products represent the highest degree of excellence in national rotomolding.
Along with other controls such as temperature control of the molds during the rotational molding process and the extraction of the parts by means of a thermographic camera, dimensional control, the use of the best materials and ecological materials and the review of our quality technicians that we have already talked about in previous posts, we will explain the control we perform on the colors of the products we manufacture to meet the wishes of designers, marketing departments and product managers.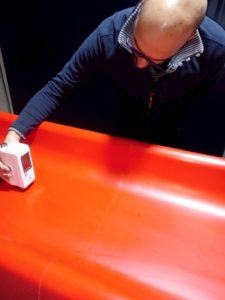 Colorimetry is a technique that consists of parameterizing colors based on the wavelength associated with the visible radiation reflected by each surface or material that we perceive with the human eye. Color perception is subjective and can vary from person to person and depends on factors such as the density of rod and cone cells in the eye, the reception of illumination on the retina, the surface on which the color is applied… Therefore, it is necessary to have an objective means of scientifically studying the differences in shade to be able to distinguish between standard samples and manufactured parts and to validate through objective and clear criteria the colors in which the parts are manufactured.
ABC ROTOMOLDING uses in its testing routine a tester equipped with a Xenon lamp as light source that measures the color expressed in terms of L*a*b* and comparatively by means of the comparative factor called ΔE*, doing it on a measuring area of 8 to 5 mm under standard lighting conditions D65, 10 degree observer with specular component included (SCI), being possible to perform the test on any type of surface, either smooth, curved, textured, irregular shapes, etc. as well as on the different types of plastic commonly used for rotational molding (PE, PP, PA…).
In this way, we are able to measure the colors we use and compare them with the standard samples of the corporate colors of our customers to obtain exactly the desired color, being able to certify differences in the tonality expressed through the ΔE, guaranteeing yet another of the parameters that define our production.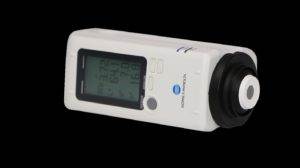 On the other hand, we would like to take advantage of this blog to invite all those interested in learning more in detail about the possibilities offered by rotomolding or who are interested in having ABC ROTOMOLDING We invite you to contact us and come to know first hand the processes and quality controls that we carry out in our facilities and that are the guarantee of quality that only we know how to offer.
Don't hesitate any longer and come to meet us! At
ABC
ROTOMOLDING
we have the solution you are looking for.